Ohio Semitronics Simplifies Complex Waveform Voltage Measurement
One model. 50mV to 600V, DC to 1000Hz | DVT8
Have you recently installed a new drive and then seen strange voltage measurements?
Maybe you're struggling to make sense of signals from some other new device?
Perhaps you simply want to accurately measure known complex or noisy power flows?
Are you overwhelmed at the thought of stocking or ordering multiple devices to get an accurate and correct measurement of any or all of these situations?

Relax. OSI Understands Complex Measurements and Has You Covered
Ohio Semitronics now offers a single device to measure voltages from 50mV to 600 Volts, at frequencies from DC up to 1000 Hz, and with enhanced noise immunity


Quickly and simply select the correct voltage range in the field through a DIP-switch sequence, which allows the user to apply a single device in multiple locations.


Even better, the DVT8 will measure DC and AC true RMS voltages up to 1000 Hz, making it ideal to measure non-sinusoidal and other complex waveforms associated with drives and other non-linear loads.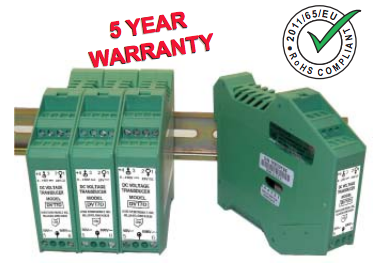 It is housed in a convenient DIN-rail enclosure and available with 5VDC, 10VDC or 4-20mADC outputs – all with full galvanic isolation.


Multiple Voltage ranges. Multiple Inputs and Outputs. Wrapped in a convenient and isolated package.


Chat or call our technical sales to reserve your 30-day evaluation unit today.